About This Project
The first step of the project was meeting the customers at their home. Here we took a project brief of the type of fixtures they required.
The requirement was for three lights for their beautiful home, two for the master bedroom and a similar but slightly smaller piece for their bathroom. 
The client already had a strong sense of their requirement and how they wanted the finished article to look. We discussed the size of the lights required, taking into consideration the size and proportion of the rooms, the height requirements to ensure they were positioned sufficiently to enable the customer and others to walk freely under the lights and to be able to admire the fixtures from all angles. 
The distribution of lighting required in each room was a key consideration as well as the energy rating and compatibility with a suitable lighting circuit to ensure the lights could be dimmed as required. The furniture selection of each room is also something else we took into account to achieve the right feel or ambiance within the space.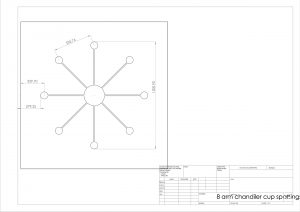 Once a preliminary drawing was made we discussed adding more decoration to the lights to enhance them. We added more leaves to give more shape, a more pronounced pattern on the leaves was incorporated and at the base of the candle for the bulb, a flower section was added. Flowers were added to the underside of the pendant body as well.  A canopy was also designed.
We then needed to reconsider the weight of the light, the finish required, materials to be used and how the fixture could be maintained as once hung aftercare needed to be kept to a minimum.
The bathroom light needed to be ip 44 rated due to the location in the bathroom to comply with regulations and ensure complete safety.
The circumference of the light was designed by producing a box for the area we had to fit the light in.  Then the light could be scaled to fit the size that was available.
The lights were manufactured from sheet brass and tube, the leaves were rolled and a tool was produced for crimping the leaves.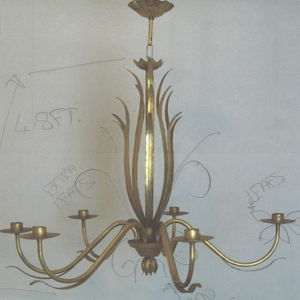 Once the main body of each light was produced, the leaves and cups were added and then began the process of wiring up the light and testing every component to ensure it complied with all regulations. A photo was then sent to the customer to ensure they were happy before installation could begin.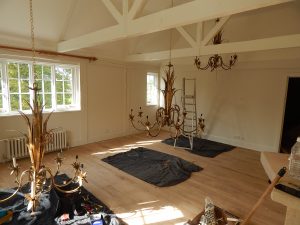 Once we received confirmation from the customer that the lights were perfect they were then taken apart for transportation.  Each light was then bolted together once in-situ as the stairways in the house we compromised due to the age and period of the house.